Professor Chisachi KATO
Institute of Industrial Science, The University of Tokyo

A basic theory for Computational Fluid Dynamics (CFD) has been already established. However it is not easy task to predict accurately for many practical industrial problems, since the phenomena are large-scale complex system in general. For predictions for multi-physics phenomena including turbulence, combustion, structure and particles, some simple models have been applied so far.
We will develop a Multi Physics Fluid Dynamics System, which enables a coupled simulation with structure, sound, and combustion. The system will bedeveloped based on the code 'Front Flow'which was developed in the project, Front Simulation Software for Industrial Science. Front Flow is based on Large Eddy Simulation that enables to predict accurately for unsteady flow, and was applied for several industrial problems such as aero acoustic noise and internal flow of turbomachinery and combustion chamber. We will realize the multi-stage fluid dynamics simulation with the LES technique and coupled-simulation technique.
(1) Prediction of aero acoustic noise by large-scale LES
Accurate prediction of the noise from fluid machine such as a fan or windmill
(2) Cavitation Model
Cavitating flow in an inducer of a rocket engine
(3) Analyses of flow with combustion reaction
Practical application for gas turbines, engines etc.
(4) Multi-phase (gas, liquid, solid) simulation
Practical application for CVD reactions, spray combustion of engines, and thermal striping.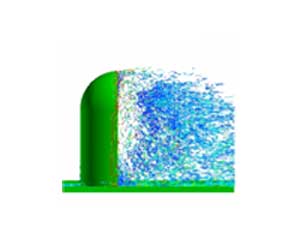 Fig.1
A distribution of vortices in a flow around a door mirror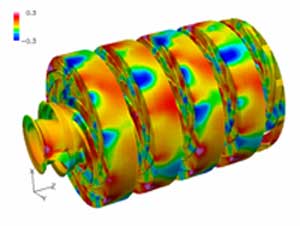 Fig.2
Pressure fluctuation on a surface of a multistage centrifugal pump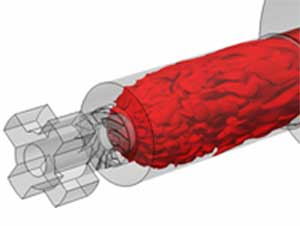 Fig.3
A distribution of a flame in a combustion chamber